GTP - Search Engine Optimization Service Provider
SEO as better defined in current world is no more a warp of keywords and links but a bundle of well planned activities that are performed strategically to expand web presence and build loyalty for your brand. To influence visibility of a website in the search engine results that appear naturally, you need an organized plan of action as per latest algorithm updates. GTP is the best SEO service provider in Bhubaneswar,Odisha. As we have the strongest power of e-Marketing Solution so we know the proper value of Google Analytic, Google Panda & Google Webmaster unit tool through that we will optimize the basic of search keywords in search engine. But our main strength is to keep the meta data and meta tag with proper content building solution & energetic SEO methodologies give us the potential to rank your website in Google, Bing, Yahoo etc
Our SEO process is designed as per Google webmaster guidelines and we stick to them to save you against all odds that newer updates bring in. Our team of SEO Expert in India strictly works under the webmaster guidelines provided by Google, and use only white hat SEO tactics to optimize a website. They build quality back links from authority websites and blogs to achieve first page rankings and generate targeted traffic.
SEO strategy used by our team of experts is based on four strong pillars.
1

Google SEO Guidelines

2

Content Optimization

3

Quality Back Links

4

Social Media Presence
Google SEO Guidelines:
Our experts regularly keep a track on Google Guidelines for SEO to ensure that we always stay updated with latest algorithmic changes and recommendations. We use the best practices to help google find, crawl and index your website.
Google Guidelines mainly cover three aspects
Design and Content Guidelines: Search engines are limited in how they crawl the web and interpret content. A webpage doesn't always look the same to you and me as it looks to a search engine. In this section, we'll focus on specific technical aspects of building (or modifying) web pages so they are structured for both search engines and human visitors alike. Share this part of the guide with your programmers, information architects, and designers, so that all parties involved in a site's construction are on the same page.
Technical Guidelines: This aspect mostly focusses on all the practical details that go into making a website. Special prominence is given to loading speed because Google love websites which load swiftly. This comes under on site search engine optimization.
Quality Guidelines: Here we take attention of off-site SEO. We use all the white hat SEO methods to make sure your website is crawled, indexed and ranked. Our main focus here is to accept by Google Recommendations, understand the necessity and frame plans based on all Google Algorithms-Penguin panda and Hummingbird.
In case your website violated Google guidelines in the past and is suffering from Google penalty or manual spam action, then consult GTP because we can help you recover quickly!
Ask for FREE Advice
Content Optimization:
Content is the king, as Matt Cutts says too, believing this, we pay sound attention on improving content to the levels that define supremacy in Search Engines.
Keyword Research: GTP is powered with keyword research analysts who specialize in framing keyword strategy and add merits to our content planning. Gone are the days when optimizing your website for few keywords brought good results, now it's the content relevancy that decides whether your page will be ranked or not. Therefore in such a scenario we cannot completely rule out the need of keyword research but we need to do it much more diligently; keeping google guidelines in mind.
Maintaining Blogs: Google loves the websites that get updated on consistent intervals and our Content specialists frame authoritative blog posts that are received well by both visitors and search engine crawlers. We make sure that your blogs are read and shared by users so that the website gets profited in SERP too.
Meta Tags optimization: Consulting GTP will give special credence to your Meta descriptions as they are the first piece of interaction that visitors have with a site, when your site appears in search engine result page. We use keywords aptly to make the Meta tags, titles and URL structure compelling, so that your webpages are ideally optimized and pull more visitors.
Rich Snippets: We make use of high quality scraps to make sure that the user's attention is drawn towards your business website when it appears in search and the click through rate is higher too. High quality scraps help you give any kind of superfluous information to Google that can stand you out in SERPs, for instance, reviews, ratings etc. It gives quick info to user specific queries and drives more visitors to your site.
Data Highlighter: Data highlighter is a Google product that we use for presenting your information more impressively. By tagging events, names, locations, Articles, Local Businesses, etc we can make visitors more interested in your business. With the use of schemas the pages are marked up in a way which search engines identify the most.
Site design and navigation – Unlike other service providers, our SEO management begins right from the site design phase. Our team of SEO experts is in constant touch with the design and development team to build a SEO friendly website for you. If you already have a website, we will first analyse its site design and run a SEO analysis to identify if the problem lies within the site architecture.
User experience – Nothing can harm your position in Search Engine rankings if you are getting your site optimized as per Google analytic. For this, our experts make analysis to enquire if you are being ranked for wrong keywords and further brainstorm ways to improve your website experience, if the site is designed by some third party.
Quality Link Building
Post Google Penguin Update, the face of link building has changed but not its worth. If your hire us, you just don't get links, instead you get links that count.
Guest Blogging- Guest blogging is the best way to reach your target audience if you choose right space to blog. A backlink from a high authority domain always has a good result on your search engine rankings. SEO Specialists recommend guest blogging but only the quality ones. Our experts will guide you to stay away from spammy sites and will help you earn a high quality backlink from reputable blogs.
Internal linking – We do significant research to internally connect your website pages so that the Google crawls your website with ease and give you a respectful rank. Linking your Web pages to blog and blog to website is an activity that increases your search engine score and adds to online visibility.
Press Release - Google hates extensive use of keywords and anchor text, as it is a dead trick to play after Panda update. So we focus on adding newsworthiness and serving to users' purpose to get noticed in Search engines. We abide by Google Webmasters guidelines to make your links impressive through PR.
Exploit all Traffic channels: Your existence over search engines depends on how appropriately you are seen by online users. For targeting ideal visitors, we invest in traffic sources like Videos, slides, info graphics, docs, discussion boards, communities, groups etc. These are the most powerful medium to target Ideal visitors if made impactful.
Enhance your social media presence:
Social Media might not have a direct relation with SEO, but google definitely considers the likes and shares your social media posts have before placing them on the top of search results.
How GTP treats your Social Media differently: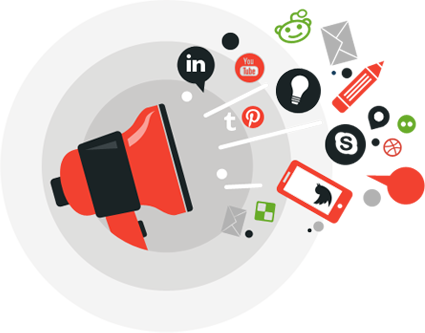 We first analyze your business to decide the most appropriate places of social media sharing in context of your target audience and then take to content sharing plan.
Our Social Media Experts monitor your presence as well as your competitors' on all possible networks before framing a personalized action plan.
Our social media strategy is focused on offering brand immunity as well, by the use of valuable sharing on relevant platforms.
We develop customized content which is highly shareable for different social mediums.
Key Principles to manage your web presence post Panda, Penguin & Hummingbird updates:
User engagement is a must- To engage user, we study user behavior, so that whatever SEO strategy we imply; makes sense to your target consumers who are connected to you via internet. Considering questionable queries and comparisons is an important thing now, as not only users but Google appreciates them too. With semantic search playing a crucial role you search engine rankings depend on how well you handle queries through your content.
Content has to be worth sharing- Connecting is more important than CONTENTING. Whatever you share, whether it is a video, image, status or post, or whatever content you publish in the form of a blog or web page; it must serve the interests of readers. For this, it is vital to know what your users respond to the most and what motivates their participation. When it comes to social media search engines check the quality on the basis of likes and shares as more talked things are understandably of users' interest.